Using sophisticated, state of the art furnacing techniques and experts in powder metallurgy, has enabled HAYDEN to manufacture a broad range of matrices to achieve the best possible bonds for every day drilling demands.
Click here for the bit selection matrix.
HAYDEN impregnated diamond bits are manufactured using high quality raw materials for optimum drilling performance. As a result of our personnel's more than 40 years of experience in the drilling industry, HAYDEN can recommend the optimum design for optimum performance in a variety of applications and conditions. Various face profiles, bonds and diamond qualities are available for superior coring performance and longer bit life resulting in fewer trips in and out of the hole, reducing costs and improving production.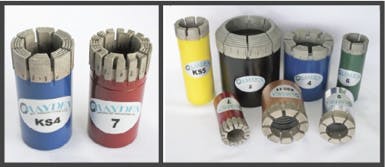 Ensure a 360-degree holes wall contact, which maximizes shell stability. Longer life is therefore achieved due to the smoothness of the drilling and the hold gauge maintained. The diamond pads are reinforced with tungsten carbide inserts on the leading edge, which reduces the erosion of matrix around the diamonds by forcing the abrasive cuttings up the waterways and not allowing it to travel across the face of the diamond pad.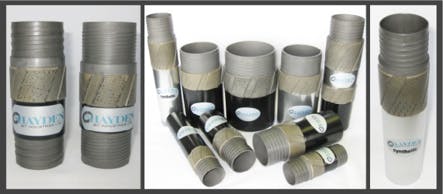 Hayden's range of shoes is the cost efficient solution for drilling the insertion of casing. The tough design and reenforced ID and OD gauge makes sure the gauge size is maintained in all the abrasive conditions. The impregnated shoes are available in either the VV profile or flat face. The casing and rod shoes are manufactured with quality raw materials to suit the customer's requirements. These are also available in Heavy Duty and Super Duty.